PApp Expense for Windows Mobile Pocket PC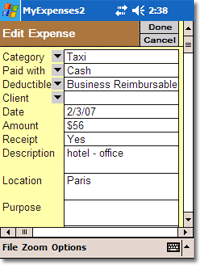 PApp Expense is a powerful and easy to use expense management program for Pocket PC. It is designed for both personal and business use.
Features
Add, edit, delete your Expenses on the go.
Expense items: Category, Paid with, Deductible, Client, Date, Amount, Receipt (Yes/No), Description, Location, Purpose, Contacts, Notes
Fully customizable: user can define Categories list, Payment types, Deductible types, Clients list
Advanced filtering (for example: Amount >= $1000, Receipt = Yes, Paid with = AmEx)
Advanced selection, hide columns, copy/paste
Totals (All, Selected, Filtered)
Export/Import to/from .CSV (MS Excel) format
Password protection
Zoom all views

Try
Buy
Free Download

- PApp Expense Pocket PC (1 MB)

Fully functional except you can not change the Amount of your expense (it is preset to $10)
Full version - $25

- PApp Expense for Pocket PC: here
Using PApp Expense
Main Menu

MyExpenses - opens the MyExpenses Table.
New Expense - appends new expense record to the MyExpenses Table and opens this record for editing in the Expense Edit Form.
Select All Expenses - selects all expense records in the MyExpenses Table.
Unselect All - unselects all expense records in the MyExpenses Table.
Delete Selected - deletes selected records in the MyExpenses Table.
Copy Selected - copies selected records from the MyExpenses Table to the clipboard.
Paste - pastes (appends) the clipboard contents in the MyExpenses Table.
View All Columns - unhides all columns in the MyExpenses Table.
Export Selected Expenses - exports selected records to .csv (MS Excel) file format.
Import Expenses - imports (appends) .csv file to the MyExpenses Table.'

File Menu

Save As - use "Save As" to save your expenses file or to export your data to .xls (MS Excel) workbook. You can work with more expense files (.pap) and use copy/paste to combine data from these files.
Password- set/clear password for the current expense (.pap) file.
Close - closes (and saves) the currently open expense file and opens the list of all available PApp files.

Zoom Menu
Set zoom level to: 70%, 80%, 90%, 100%, 150%, Custom

Options Menu

Totals - opens the Totals Table with All, Selected and Filtered totals.
Cliens - opens the Clients list for customization.
Expense Categories - opens the Expense Categories list for customization.
Payment Methods - opens the Payment Types list for customization.
Deductible Types - opens the Deductible Types list for customization.
Help - opens help.
About - PApp version, Copyright etc.

Forms

Expense Edit Form - use this form to add a new expense record or to edit an existing one.

MyExpenses Table - this table stores all expense records. You can open a record for editing by tapping on its data. You can open a new record for editing by tapping under the last row of data. Tap on "Hide" button to hide a column. You can select a record by tapping in the "Select" column. Use the "Menu" button (located in the upper left corner) to open the Expenses popup menu.

Expense Categories List - you can add new Expense Categories or delete existing ones in this list. Tap on an existing category name to delete this item. Tap on the <New> item to add a new category.
Payment Types List - you can add new Payment Types or delete existing ones in this list. Tap on an existing payment type name to delete this item. Tap on the <New> item to add a new payment type.
Deductible Types List - you can add new Deductible Types or delete existing ones in this list. Tap on an existing deductible type name to delete this item. Tap on the <New> item to add a new deductible type.
Clients List - you can add new Clients or delete existing ones in this list. Tap on an existing client name to delete this item. Tap on the <New> item to add a new client.



PApp Expense was created in Z4Soft PTab Spreadsheet